Magic Mirror Hire in Surrey
Look no further for Surrey Magic Mirror Hire
Selfie Fun for Everyone
The Magic Mirror also known as the selfie mirror or photo mirror is a great new photo booth concept using the latest photo booth technology. This unique interactive Magic Mirror is becoming increasingly popular in Surrey and is a great addition for corporate events, product launches, wedding receptions, prom nights, birthday parties and any other event or special party. The mirror will capture your guest's attention by displaying customised animations and messages on screen to attract your guests to take the ultimate selfie. Pictures are printed immediately your guests can sign them onscreen or add text using the touch screen and can be fully customised with your own text, colour scheme or logo.
Why the Magic Mirror?
New and unique concept and will not have been seen by your guests
Fully interactive with custom messages and animations
High Quality full length photographs
Instant branded prints
Stylish and smaller than a conventional photo booth
How does it work?
Custom animations will draw your guests to come over and click the touch screen. The mirror will guide your guests through a series of photographs giving an onscreen countdown in between giving time to grab some props and strike a pose before the hidden camera captures the ultimate full length selfie.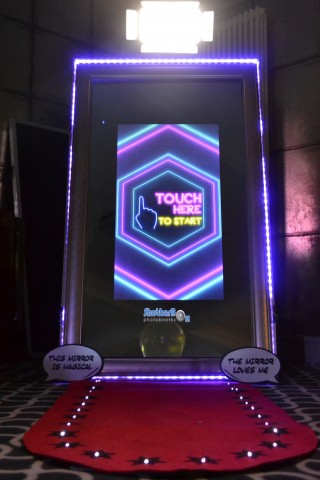 Using the unique touch screen your guests can sign the photo or write a message before being printed or shared on social media. Prints can be customised with your event details, colour schemes or company logo.
Taking a selfie has been so much fun!!
Check out our Surrey Magic Mirror Packages and availability below